With its sweeping vistas and beautiful topography, Palos Verdes Peninsula is a secluded gem within the Los Angeles metropolitan area.

The Palos Verdes Peninsula comprises four neighborhoods: Palos Verdes Estates, Rolling Hills, Rolling Hills Estates, and Rancho Palos Verdes. Each neighborhood has its own personality, but they all have one thing in common — beautiful homes, diverse architecture, and access to the Pacific.


California Style
In 1923, Palos Verdes established an Art Jury, led by renowned architect Myron Hunt. Under his guidance, the peninsula developed a signature "California Style" of architecture, which typifies many of the current builds. This style is characterized by stucco and adobe, light colors, and tiled roofs. Malaga Cove Library, Palos Verdes' central library, is a perfect example of this style. The library features cream-colored stucco walls, a rusty brown tiled roof, and wrought iron fencing around the balconies. It's a historical landmark and a beautiful example of coastal design.

Today, the Art Jury continues to oversee buildings on the peninsula, and approves of any architectural plans. This helps keep the city cohesive and beautiful, as Hunt intended.
Modern
Some of the peninsula's most impressive mansions are perfect examples of modern architecture, with their large windows, open concepts, and reinforced concrete. You'll note minimalism in both the exterior and interior looks. There's nothing better than waking up on a clear morning to see the jagged cliffs and expansive ocean views from the comfort of your own home. There are great collections of modern builds along the coast for this reason.
Mediterranean
Some of the peninsula's larger estates are classically Mediterranean, with both large stature and beautifully ornate features. While Mediterranean style is aligned with Hunt's original vision, many of Palos Verdes' current builds take his vision to new heights. You'll note rectangular floor plans, stuccoed walls, red-tiled roofs, symmetrical columns, arched windows, and dramatic ornamentation. Paired with fountains and lush landscaping, the Mediterranean style really stands out. Some of the more decadent Mediterranean homes were built relatively recently (in the 1990s and early 2000s).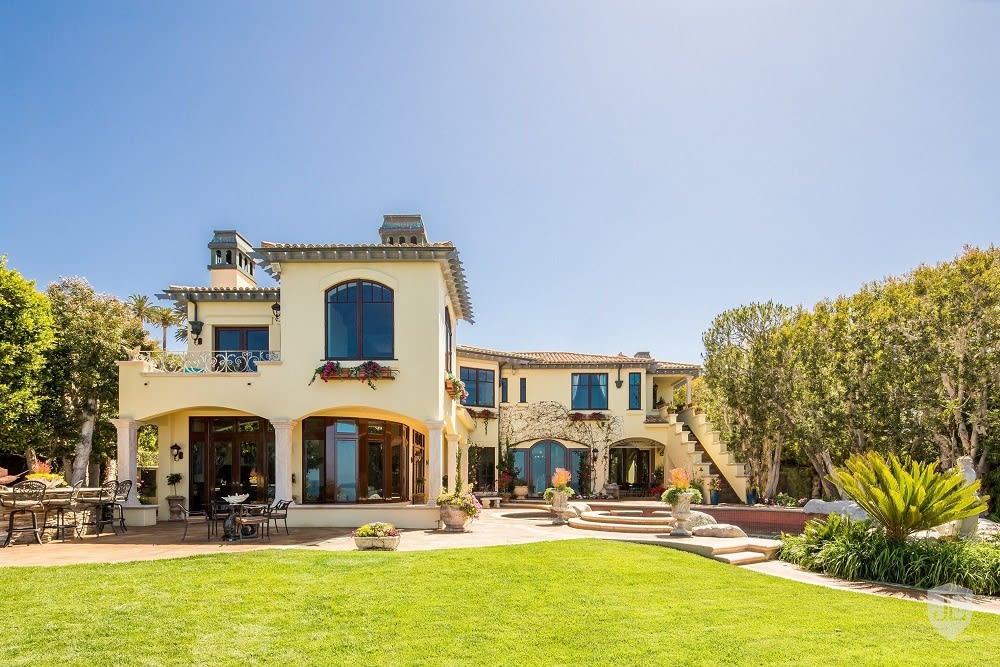 Renaissance
Adding to Palos Verdes' luxury aesthetic are Renaissance-style homes. With their distinctly coastal European flair, Renaissance homes are defined by symmetry and visual harmony. Columns, arches, and domes are just a few design elements to note. You'll see balconies with ornate columns and doorways with mirroring columns. Given Palos Verdes' propensity toward Mediterranean architecture, it's no surprise that many properties manage to combine a Mediterranean feel with Renaissance-inspired features. You will see stucco walls with white painted paneling, and red-tiled roofs combined with white Doric or Tuscan columns.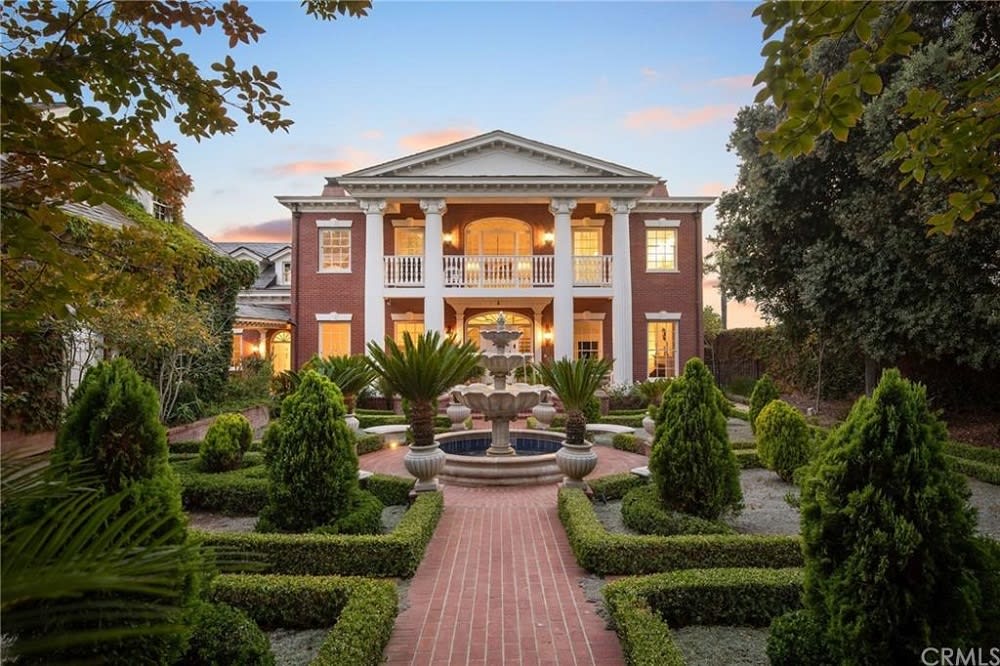 Spanish Colonial Revival
Spanish Colonial Revival homes are very popular throughout California, and especially on the Palos Verdes Peninsula. Although similar to Mediterranean design, Spanish Colonial homes include truly unique features. Spanish Colonial Revival homes have thick, white walls, which are ideal in a coastal climate. They stay cool during the day, and then release the sun's warmth at night, creating optimal sleeping conditions. These homes also have red-tiled roofs, which are typically flat but can be slightly pitched. You will also find wooden support beams, which match the dark wooden doors and windows that are typical of this style.

In terms of the estate grounds, Spanish Colonial Revival homes tend to include courtyards. Originally, these were intended to allow residents to cook either indoors or outdoors. You'll find this open-concept style in a lot of Palos Verdes homes, which makes it easy to maintain an indoor-outdoor lifestyle.
Mid-Century Modern
Mid-Century Modern design—for both architecture and interior design—has had a long run of popularity in the U.S., and Palos Verdes showcases it at its best. The peninsula experienced a "building boom" in the 1970s, which created a playground for mid-century architects. Pierre Koenig, Richard Neutra, A. Quincy Jones, and Paul Revere Williams all left their mark on the peninsula's architectural scene, contributing open floor plans, and "the blurring of indoor and outdoor spaces." This style also embraces flat roofs, angular details, and asymmetry. There's nothing overly complex about these homes' clean lines and expert use of glass, which put an emphasis on the coastal location. Palos Verdes is currently honoring its ties to modern and mid-century modern designs with its exhibit at the Palos Verdes Art Center, "Palos Verdes Modern." Visit the center to learn more about this style's history.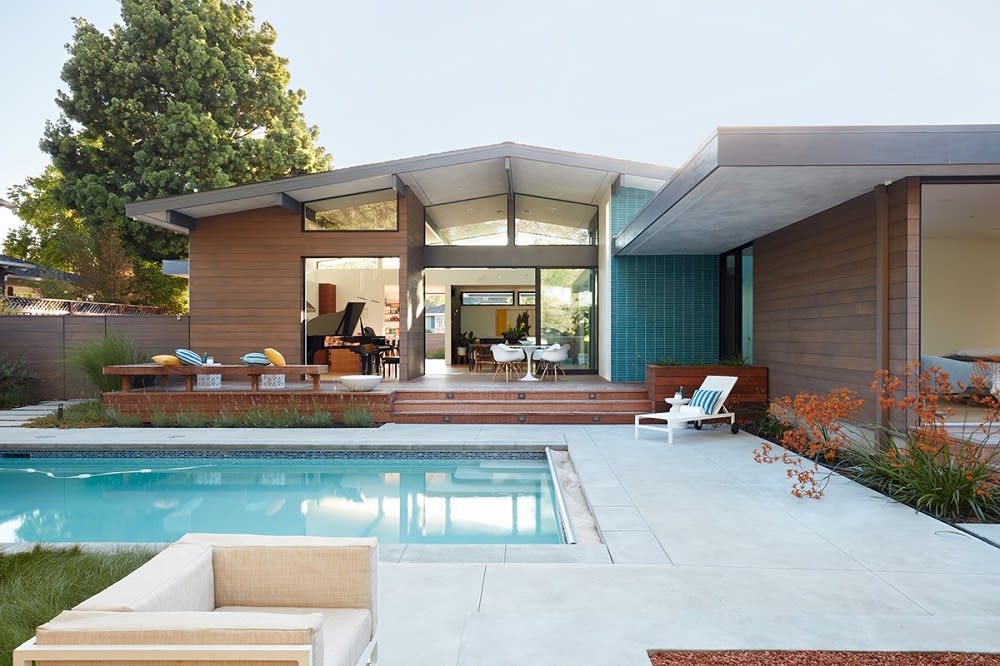 Image Credit: home-designing.com
Contemporary Ranch
Contemporary Ranch homes are intended to look accessible and classic from the outside while warm and cozy on the inside. Contemporary Ranch homes are also very popular across Southern California. They're typically single-story, open-concept homes that embrace outdoor living. From the outside, they embrace a minimalist approach that emphasizes function over form. You may see some with pitched roofs, which make for open interiors. Many of these builds in Palos Verdes also come with beautiful pools and outdoor gathering areas, which makes them perfect for families. And, because they're relatively neutral, they're easy to style in many different ways.
Shopping homes for sale in Palos Verdes?
If you're looking to relocate to the Palos Verdes Peninsula, consider your taste in architecture before you begin your search. The real estate market on the Palos Verdes Peninsula is competitive, so it's important to work with an experienced agent who knows the landscape through and through. When you're ready to start house hunting, The Bisignano Group is ready to help you find your Palos Verdes dream home. For the best local expertise, market analysis, and stress-free customer service, contact Gerard and his team today.
*Header Image Credit: The Palos Verdes Peninsula News